About Me
I'm a retired IT Manager, living in Sussex in the UK. Photography has been one of my principal hobbies since I was a teenager over 50 years ago, although the subject matter has evolved as my other interests changed. A growing interest in Birdwatching in the 1980s led the way, and then our first safari in South Africa in 1994 confirmed that this was what I really wanted to do. Since then - apart from family - birds, wildlife and travel have dominated my photography.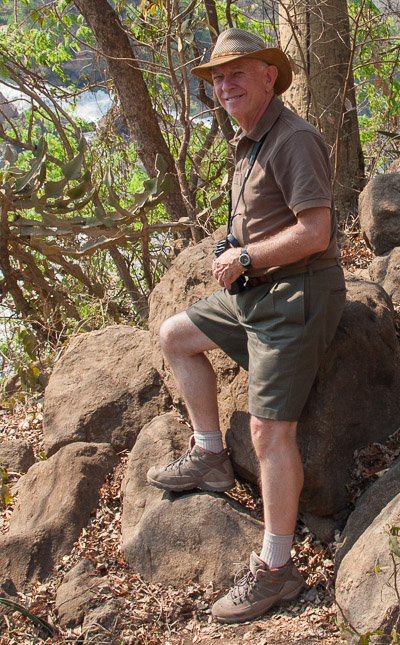 Fortunately, my wife Lesley shares these interests, so we have had no arguments about planning virtually every holiday with a wildlife component. Although we have included India, Madagascar, Costa Rica, Canada(BC) and Florida, as well as various UK locations, we have fallen in love with Africa, and keep returning. Fifteen trips since 2000 include Botswana, Namibia, South Africa, Tanzania, Zambia, Kenya, Malawi and The Gambia. The only problem that we have is in deciding which one to go back to next - or where to add to the list!
My Equipment
I have been a confirmed Canon user ever since buying an FTbn in 1973 - this served me well for almost 20 years, until I bought the first of two EOS 100s in 1992 - later upgraded with the superb EOS 3 in 1999. I entered the digital age with an EOS 10D in 2003, and migrated through the 20D and 40D to my current 7Ds. For the last 10 years, my camera bag has been designed around the needs of safari trips:-
Two bodies - mainly to provide redundancy - an single body failing miles from anywhere, halfway through an expensive safari, would be a disaster. And yes - it did happen once, when a new 40D failed in the middle of Etosha, and a well used 20D had to cover the next 10 days! Currently these are a 7D + 7D Mk2.
Two bodies also avoid the need to change lenses in back of a dusty safari vehicle - and provide instant access to the right lens for the surprise shot. Currently EF 100-400 IS II and EFS 15-85 IS cover the complete range needed.
Limited weight - the weight allowance on light aircraft flights between safari camps is very low - so the only other kit is a Speedlite and binoculars.